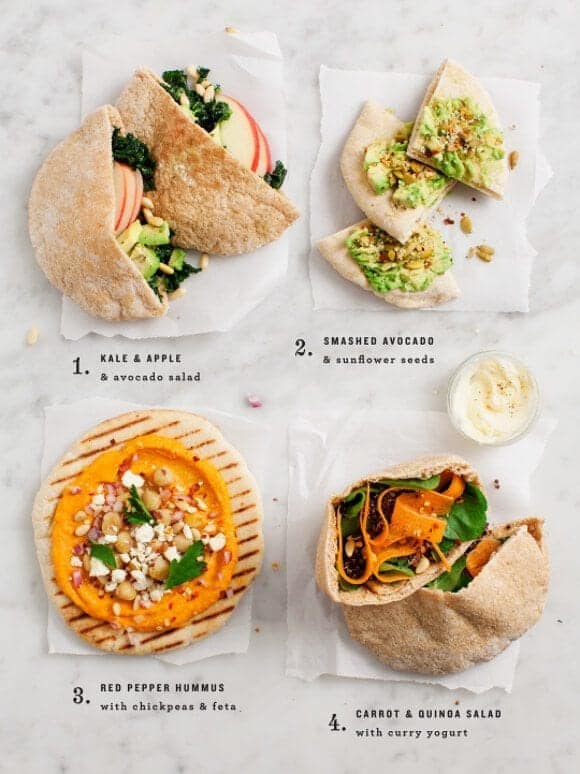 {I am loving Love and Lemons Easy Veggie Pita Lunches}
{Refinery29 showcasing 8 Insanely Delicious Pasta Recipes -loving it as an hors d'oeuvres}
1. I'm a huge fan of One Kings Lane and I just learned that they launched a new sister site  – Hunter's Ally which is a marketplace created for people who love design.
2. I really enjoy Business Insider and this line graphs made me laugh!
3. Gotta love a good celeb map of NYC.
4. I love my fitbit – it may not be the my most attractive accessory, but it keeps me active. I do think my fitbit would be jealous and intimidated by the iWatch.
5. I am not a football sports fan, but I do love the commercials during the Super Bowl and this commercial about Derrick Coleman is incredibly inspiring.
6. I wish I could go searching for warmer weather like couldihavethat? goes searching for cooler weather – love her outfit, photos and her morning sounds pretty fabulous!
7. I am lucky enough to live in NYC and also lucky to live within walking distance of Murray's Cheese, the best cheese store (really a cheese lovers paradise). I am having a dinner party tomorrow night and will definitely stop in to buy some cheese! Even if you don't live in NYC you can order from them, and they have a great article on cheese pairing.
8. Are you a doodler? This new study is pretty interesting if you are.
9. I can't believe it has been 10 years, here is a where are they now of the cast of Mean Girls.
10. Have you seen the new gadget Mother? What do y'all think?
11. Here are the most expensive hotel suites in NYC. Yikes!
{Cheese Plate Goodness}