In my personal opinion, nothing is worse than dining out on Valentine's Day. Total amateur hour. I am sorry if that sounds a bit harsh, and this may actually more pointed solely towards dining out in NYC on Valentines. The last time I went out on this day was James and my first February 14th together. The whole evening was a comedy of errors, starting with a guy spilling at entire glass of water on my lap when he walked by just minutes after being seated. In case you were wondering, I was wearing a light yellow skirt so there were issues to contend with beyond sitting in a cold puddle of water. The menu was a stuffy prix-fixe with a separate menu for the lady and the gentleman. So silly and absurd, especially, since two of the items listed on my side I straight up can't eat. The dinner was also overpriced – insult to injury but we have since laughed about the evening. We also have moved this day to the comfort of our own home and have had the best time! Here is my recipe for a perfect Valentines Dinner!
This dinner is so easy, elegant and delicious! No culinary skills are needed to pull off this lovely mea, making it perfect for anyone. Guys you can do this, don't be intimidated. Surprise your significant other, because who doesn't like to be surprised with a delicious home cooked meal they didn't have to lift a finger for? Light some candles, put on some good tunes, open a bottle of red wine and you have the perfect evening!
Goat Cheese Mashed Potatoes 
1 pound russet potatoes, peeled, cut into 1 1/2-inch pieces
1 cup whole milk
1 stick of butter
4 ounces soft fresh goat cheese, crumbled
Directions

Cook potatoes in large pot of boiling salted water until tender, about 30 minutes. Meanwhile, add the milk and butter to a small saucepan and bring to a boil over medium high heat.  Remove from heat.

Drain potatoes and return to pot. Slowly add hot milk mixture a little bit at a time mashing until you get the right consistency you desire. Add goat cheese and mash until blended. I sometimes add a little more goat cheese depending on how strong of a goat cheese taste I am looking for and it is a perfect excuse to taste test as you go! Season to taste with salt and pepper. You can prepare this about 2 hours ahead of time and let stand at room temperature. Before serving, stir over low heat until heated. I love to serve the mashed potatoes in these Le Creuset mini cocottes.
Beef Tenderloin 
fillet of beef, trimmed and tied
2.5 Tbsp fresh rosemary
1.5 Tbsp garlic
1/4 cup balsamic vinegar
1/2 cup vegetable oil
salt & pepper
Directions

Chop the garlic and fresh rosemary and add it to the vegetable oil, balsamic vinegar, salt and pepper mixture. Combine and mix the marinade and rub the mixture on the beef. I add the marinade and beef together in a plastic bag and marinade in the fridge for at least 4 hours. Before cooking, take the tenderloin out of the fridge and allow it to come to room temperature.

Preheat oven to 500 degrees. Cook in cast iron skillet or sheet pan. Roast in the oven for 22 minutes for rare and 25 minutes for medium-rare. (If you prefer meat well done I would cook it about 30 minutes.) Remove the beef from the oven, cover it with foil and let rest for 10 minutes. Remove the strings and slice the fillet thick. 
The salad is a simple arugula salad with a little olive oil, lemon and parmesan cheese. These Brown Butter Cupcake Brownies are also the absolute most perfect way to end the meal. I love to make these for dinner parties, when I want to knock peoples socks off. Trust me these are one of the most sinfully delicious things I have ever tasted, and I am not usually a sweets person. I leave out the walnuts and I make them earlier in the day. I follow the recipe bake them for 10 minutes and then take the out and let them sit in my kitchen. After dinner, I pop them back into the oven at 350 for about 8 minutes and they are perfect! 
{knives | plates | wine glass | candlestick }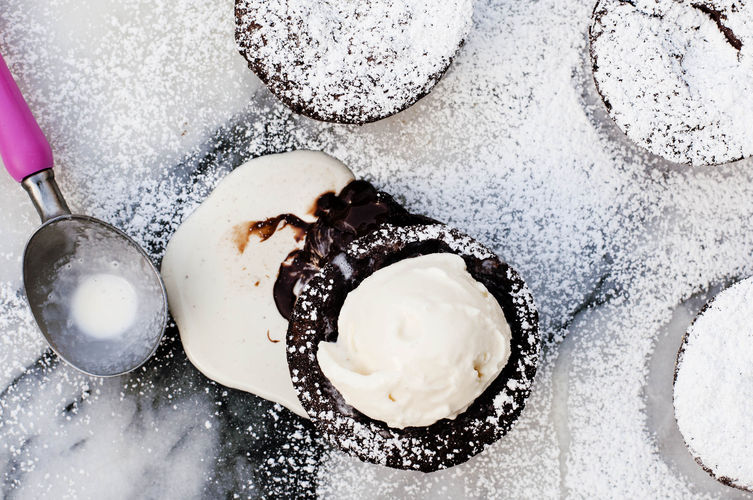 {Perfect end to a perfect meal | Brown Butter Brownie Cupcakes Food52}
Night in Yountville | Napa Valley
Read More